05/27/2014 12:00AM, Published by Brandi Barnett, Categories: In Print, Recreation, Community
---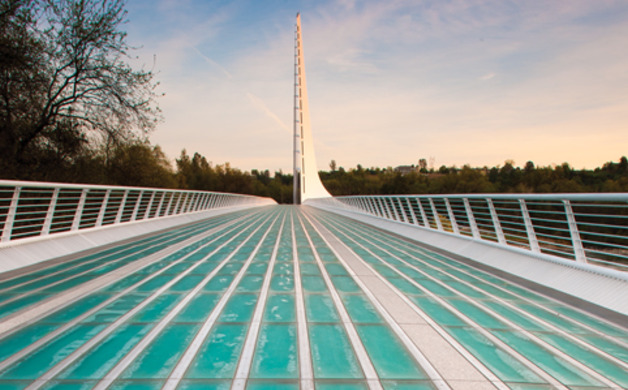 ---
By: Kerri Regan
On any given day at the Sundial Bridge, couples stroll hand in hand. Children scamper to the plaza below to skip rocks into the Sacramento River. Residents show off the area to out-of-town guests. Visitors converse in foreign languages. Television commercials use it as a backdrop.

With the constant buzz of energy, it may be difficult to recall a time when this iconic structure wasn't there. But around the turn of the millennium, the idea belonged to beyond-the-moon dreamers, and it drew more than a little skepticism from the community that now adores it.

When the bridge opened on July 4, 2004, it linked the north and south campuses of Turtle Bay Exploration Park, and provided another entrance to the Sacramento River Trail system. Yet it also became a cultural hub that has been the backdrop for weddings, parties and family photos. Its image on the cover of a physics textbook hails its wind and gravity resistance. It's a community gathering space for celebrations, memorials and observances.

The 700-foot-long Sundial Bridge designed by world renowned Spanish architect Santiago Calatrava celebrates creativity and ingenuity, as it was designed to cross the water without touching it to avoid spawning salmon. Eighteen 40-foot deck sections and 25 truckloads of pylon pieces were transported from Washington to Turtle Bay, and another 14 large pieces were shipped by barge to Vallejo and then trucked to Redding. Its deck is made of translucent structural glass from Quebec, and the 200 tons of glass and granite are supported by 4,300 feet of cable.

The Sundial's long and winding road to Redding began after "we decided to do something more significant than a functional bridge to get people from Point A to Point B," says John Mancasola, vice president of the private nonprofit McConnell Foundation, which funded most of the $23 million price tag. "There was a hope that the bridge would help reshape Redding's identity and create a gathering place that had been lost when the core of Redding's business moved east of town when the freeway came through."
They'd also hoped that it would serve as a catalyst for appreciating the river that ran beneath it. "We were guilty of turning our backs to the river," says Mancasola, a Redding native. "It's such an amazing thing we have that flows through this community."

After a task force deadlocked on which of two firms to use to design the bridge, Mancasola stumbled upon one of Calatrava's design books. He and Terry Hanson from the City of Redding called Calatrava's Zurich office to gauge his interest — and the pair were as surprised as Calatrava when they ended up ringing his home phone. "I think he was intrigued by the idea that these people would call him cold from halfway around the world because of interest in his work," Mancasola says.

So Calatrava came to Shasta County, and Hanson and Mancasola in turn traveled to Europe to check out his projects and meet with his design team. Of the three designs that Calatrava presented, the Redding City Council, Turtle Bay staff and attendees at a public forum preferred the one that Calatrava also liked best.

The project carried its share of skepticism. "Our marketing director put yellow sticky notes on the window of his office door — every day that went by without a negative letter to the editor about the bridge, he'd write a number on a sticky note," says Bev Stupek, development officer for Turtle Bay. "The most we ever got was three days."

Even proponents weren't 100 percent convinced. "When Mike Warren was city manager, I'd hear him speak to people about the bridge that was under construction," Stupek says. "The words were positive, but at the end of the sentence, I felt like there was a bit of an unsaid question mark. In 2004, I asked if I could give him a tour. I had him close his eyes, and I asked him what he saw when I said Sydney, Australia. St. Louis, Missouri. Seattle, Washington. San Francisco, California. What image comes to your mind? Every single time, it was the architectural icon that defined that place. It gave those places a sense of self. And heaven knows, far Northern California didn't have one of those."
Today, the Sundial Bridge is a tourist attraction, a pleasant spot for a walk and the image in many companies' logos. "It speaks to how it has meaning and connection with people," Mancasola says. "From the McConnell Foundation's perspective, that was our hope and dream."

And it's built name recognition well beyond the North State. Just a few years after the bridge was built, the Stupeks were on a cruise from Florida, and every person who asked them their hometown knew about the Sundial Bridge. "We were dumbstruck by the impact and the power that one architectural and artistic icon had," Stupek says. "What we have been able to achieve, build and dream in a community of our size and rural nature without massive industry and big business dollars is phenomenal. It's nothing short of magical. It makes Redding's special spirit more visible to the world at large."

Mancasola recently bumped into a vocal opponent of the bridge, who told him, "I eat crow every time I walk across it." But Mancasola never took offense when someone said they didn't like it. "People are entitled to their opinions about it. Any time you have something that significant in the community, something would be wrong if it was universally accepted — especially before it's there. I'm glad he likes the bridge now."

And he can't help smiling when he walks around the north side of the bridge. "One of my most memorable moments when the bridge was opening was when Calatrava and I came through the arboretum and headed down underneath. He stopped and grabbed my arm and said, 'Look at this!' On the backside of that pylon, there's a grid, and when light comes up from that grid, it creates a pattern on the lower part of the pylon that replicates how the bunch grasses are down there. He loved that, and he hadn't planned that. It was an unexpected surprise that just thrilled him. He's a renaissance man with a genuine, childlike exuberance for what he does."
Calatrava won't be at Celebrate 10, as he is the designer of the new World Trade Center Transportation Hub and is otherwise obligated. But Stupek hopes for an impressive turnout from everyone else to celebrate this "incredible work of art and magnificent gift to our community," she says. "I'm looking forward to a celebration with unanimity. I feel as if even if it's not your favorite kind of art, one would be hard pressed to argue its impact on our community and our region. It's given us that civic identity and civic pride, not just within our city limits, but it put us on the map globally.

"Not a day goes by that we don't hear languages from around the globe ­— on a bridge where I work in Redding, California," Stupek says. "That did not happen 12 years ago. How can we be anything but proud?"

And all that considered, its time to celebrate with a community-wide party and you're invited: Two weeks of excitement, from gravity-defying dance performances to the flashiest of fireworks, will honor the Sundial Bridge's 10th birthday.

"We really need to celebrate this in a special way," says Kim Niemer, community services director for the City of Redding. "It has brought a ton of positive publicity and put us on the map, both nationally and internationally. It's become a great gathering place for our community."

Activities begin June 21, the summer solstice — the one day of the year when the sundial is perfectly accurate — and wrap up July 4 with the annual fireworks spectacular.

The highlight is bound to be the Bandaloop dance company, which will turn the entirety of the bridge into its vertical stage. A recent rehearsal left Niemer spellbound. "It's so strange to actually see people up there," she says. "When they came out and were straddling the pylon, it was crazy. We think the Bandaloop group on the Sundial Bridge should be on 'Good Morning America' as the cool summer solstice shot of the year."

The Sundial Splash community float down the Sacramento River and a music festival at the Redding Civic Auditorium are activities that "we hope we're incubating this year, and that they'd become annual events," Niemer says.

An evening of food, music and fun is planned on the Redding Civic Auditorium's front lawn, and Redding Catalyst's Brews by the Bridge event will showcase 10 local breweries. Special Turtle Bay activities and exhibits, nightly concerts at the riverfront amphitheater, docent-led bridge tours, a sidewalk chalk art contest, fly fishing demonstrations, flash mob dance performances and more are planned. Turtle Bay will unveil new Sundial Bridge exhibits in the Museum and at the Sundial Bridge Plaza.

The celebration is a collaboration among the City of Redding, The McConnell Foundation, Redding Civic Auditorium, Shasta County Arts Council, Turtle Bay Exploration Park and VisitRedding.com.

"For those two weeks, come to the bridge — there will be something going on," Niemer says. "Let's go hang out with each other, get to know your neighbors, breathe and enjoy this beautiful community we live in. It's time for a good party in this town. Let's be happy together and enjoy this bridge and our river and each other, and celebrate community."